The ISM43903-R48-L54-E/U is an embedded 2.4 GHz Wi-Fi module. The Wi-Fi module hardware consists of a Cypress 43903 SOC with ARM Cortex-R4 clocked at 160 MHz (in 1× mode) or up to 320 MHz (in 2× mode), an integrated antenna or optional external antenna, 1 MB of SRAM and 640 KB ROM available for the applications processor, SPI or UART interface capability.
The Wi-Fi module requires no operating system and has an integrated TCP/IP stack that only requires development utilizing the Cypress WICED SDK. The module has a very small 14.5mm x 30mm surface mount footprint and has full FCC and CE module certification.
This product is targeted for low cost embedded wireless applications and enables a quick, easy and cost effective method adding Wi-Fi connectivity to your platforms.
A summary of the key module features
ARM Cortex-R4 clocked at 160 MHz  or up to 320 MHz (in 2× mode).
1 MB of SRAM and 640 KB ROM
High-speed 4-wire UART interface with operation up to 4 Mbps.
Two low-speed 2-wire UART interfaces multiplexed on general purpose I/O (GPIO) pins.
On board 2.4 GHz antenna or U.FL Connector option for external
Configurable using AT commands (IWIN)
Host interface: UART
54 Pin Land Grid Array Footprint (Backwards Compatible to L44)
14.5mm x 30mm x 2.5 mm
17 GPIO's
Low power operation with built-in low power modes.
802.11 b/g/n
Fully contained TCP/IP stack thus minimizing host CPU requirements
Network features ICMP ( Ping), ARP, DHCP,TCP, UDP
Secure Wi-Fi authentication WEP-128, WPA-PSK (TKIP), WPA2-PSK 
Product Documentation
ISM43903  Product Brief
ISM43903 Functional Spec
Technical Resources
Footprint  ( Compatible with : L44 +10 ) ISM43362 and ISm43340 modules
Orcad Symbol
EVB Reference Schematic ( Same reference design as ISM43362)
Pads PCB Footprint Decal (zip)
Product Resources
This module can be run using the the Cypress WICED SDK.  This module is designed to utilize the high performance CPU core along with  RAM/ROM and Flash required by some Cloud vendors.
OTP Programming Using Secure Boot & Secure Flash
OTP Development and NVRAM
WICED Wi-FI SDK Download
Firmware
JTAG Firmware Update Note
Cypress WICED SDK Patch
Power Consumption App Note
The Cypress WICED SDK requires a patch to be installed to use the Inventek modules.
Evaluation Board Detail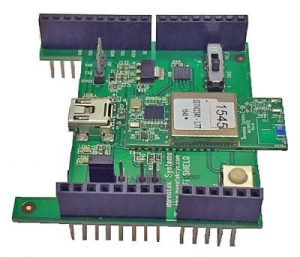 Applications
PDA, Pocket PC, computing devices
Building automation and smart energy control.
Industrial sensing and remote equipment monitoring.
Home Kit
Buy Online from Our Valued Distributors
Buy ISM43903-R48-L54 from Digi-Key
Buy ISM43903-R48-L54 from Mouser
Evaluation Boards:
Buy ISMART43903-E from Digi-Key
Buy ISMART43903-E from Mouser
Contact Inventek
For sales support Volume Pricing and delivery options
Contact Inventek
Buy Online at Inventek Store