Inventek Systems eS-WiFiTM
AT Command Set Firmware Release C2.4.0
Inventek System's eS-WiFi firmware release C2.4 adds several exciting features plus a full complement of AT Commands simplifying the design and implementation of secure embedded wireless networking connectivity.
Major NEW Features and Commands
Support for up to Four Simultaneous Sockets.
Any combination of TCP and UDP clients and/or servers.
SSL/TLS Security with Programmable Certificates and Keys.  (SSL3.0 & TLS1.0/1.1)
Auto-Channel Selection Algorithm for optimizing AP Mode Channel Selection in High-density, Congested and Overlapping Signal Environments.
Cloud Support for M2M and IoT applications using Axeda Cloud Services.  (Additional Cloud Agents will be supported in upcoming releases.)
Over the Air (OTA) Upgrade Capability. (Requires external FLASH memory connected to the eS-WiFi SPI bus.)
mDNS (Multicast Domain Name System) Service Discovery Used for Broadcasting Local Network Services.  Based on Broadcom's Gedday.
Multi-client UDP Server.
Concurrent softAP and Client (STA) mode. (Supports up to five concurrent clients in softAP mode.)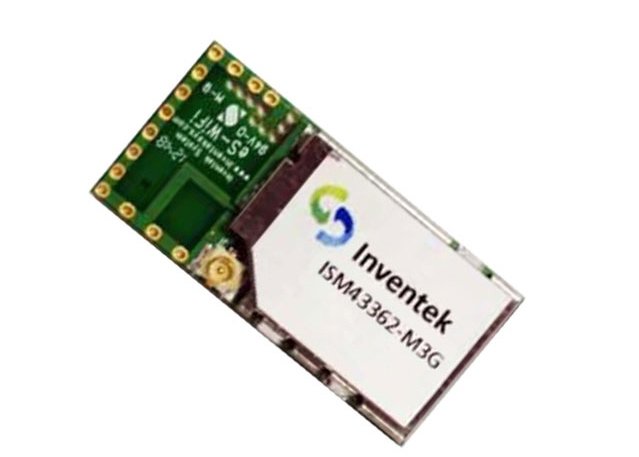 The eS-WiFi Capabilities
Scan and associate to Wi-Fi access points.
Authenticate to Wi-Fi Access Points with the following security types:
Open, WEP-40, WEP-104, WPA (AES & TKIP), WPA2 (AES, TKIP & Mixed mode)
SoftAP mode with support for security types: Open, WPA, WPA2
Concurrent AP & STA mode (AP mode limited to 5 concurrent connected clients)
WPS 1.0 & 2.0 Enrollee & Registrar (Internal Registrar only)
Wi-Fi APIs: Network keep alive, packet filters
Power Save Options.
Application Features
Peripheral interfaces – 5 GPIOs and 5 ADCs
Host Interfaces  – UART, SPI and USB-HID
Device Configuration Table (region in flash to store AP, security credentials, TLS certs, serial number, Wi-Fi country code)
Factory reset
Automated configuration via softAP & webserver
Networking Features
ICMP (Ping)
ARP
TCP
UDP
IGMP (Multicast)DHCP (Client & Server)
DNS (Client & Redirect Server)
HTTP / HTTPS (Client & Server)
SNTP
SMTP