The ISM34x-USB is an embedded wireless Wi-Fi 802.11 b/g/n and Bluetooth Low energy (BLE) embedded USB module. 
Quality wireless combo module providing the highest level of integration available for an IoT device. Bridges BLE sensors to Wi-Fi. Includes a dual band (2.4 GHz and 5 GHz) IEEE 802.11 a/b/g/n MAC / Baseband / Radio, Bluetooth Low Energy (BLE), Bluetooth 4.0 and NFC. The module implements the Broadcom BCM43340 or the BCM43341, single-chip, combo-radio device an external Flash memory for over the air update.
Simply install the USB drivers and you can run the IWIN AT commands (In development) to communicate with eS-WiFi or you can install Broadcom WICED SDK to get started.
A Summary of the features:
802.11 b/g/n Compatible based on Broadcom MAC/Baseband/Radio device.
Fully contained TCP/IP stack thus minimizing host CPU requirements
BLE 4.0 support - software for BLE only
NFC for ISM341-USB version only
Broadcom WICED
Network features ICMP ( Ping), ARP, DHCP,TCP, UDP
Secure WiFi authentication WEP-128, WPA-PSK (TKIP), WPA2-PSK
EVB Product Documentation
ISM43340-M4G-EVB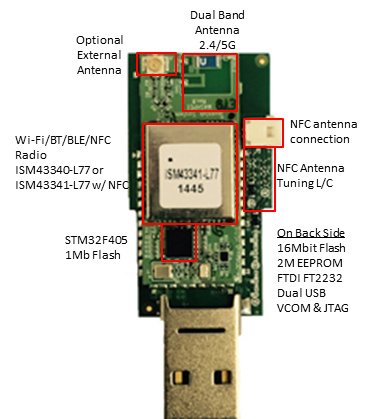 Our Valued Distributors
Inventek Products Distributor List
About Inventek
Industry experience coupled with quality products, Inventek is a USA-based market leader in full-service Wireless and IoT Connectivity focused on 802.11 b/g/n, BT, BLE, NFC, GPS, Combo and Antenna embedded modular system solutions. For all your inquiries regarding technical and customer support, sales, distribution volume pricing and delivery options we provide our valued customers
Contact Inventek