The ISM43340-L77 quad-radio device provides the highest level of integration for wireless system, with integrated dual band (2.4 GHz/ 5 GHz) IEEE 802.11 a/b/g/n single-stream, MAC/baseband/radio, Bluetooth 4.0.
Product Specifications
The ISM43340 includes integrated power amplifiers, LNAs and T/R switches for the 2.4 GHz and 5 GHz WLAN bands, greatly reducing the external part count, PCB footprint, and cost of the solution.
This product is intended for embedded Linux/ Android applications running on qualified Host processors with a SDIO interface. This product is targeted at high volume designs with experienced Linux / Android customers. A Software License Agreement is required for Driver support.
Product Overview
Wi-Fi standards, speeds and security:

802.11 a/b/g/n with speeds up to 72Mbps
WEP(64/128-bit), WPA, WPA2 (Personal), 802.11i (AES, TKIP, 802.1x)

System-in-Package design, no need for external crystal oscillators or RF switches
Single supply voltage of 3.3VDC ±5%
77 pin LGA package (13.3mm x 14.5 mm, 2 mm)
WLAN, Bluetooth functions:

Shared Single and dual-antenna support
WLAN host interface :4-bit SDIO for easy host interfacing
BT host digital interface (can be used concurrently with above interface): UART (up to 4 Mbps)
ECI – enhanced coexistence support, ability to coordinate BT SCO transmissions around WLAN receives
I²S/PCM for BT audio
HCI high-speed UART (H4, H4 +, H5) transport support
Bluetooth SmartAudio® technology improves voice and music quality to headsets
Bluetooth low power inquiry and page scan
Bluetooth Low Energy (BLE) support
Bluetooth Packet Loss Concealment (PLC)
Bluetooth Wide Band Speech (WBS)
Radio Only SIP Summary
Evaluation Boards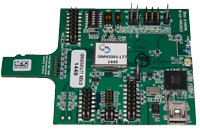 ISM43340-L77-EVB
Applications & Uses
Internet Enabled Consumer Devices
M2M (Machine-to-Machine)
Industrial Handheld Devices
Asset/Inventory Management
POS Terminals
Medical Equipment
Wi-Fi Enabled Security Cameras
Contact Inventek
We are looking forward to answering all your inquiries regarding sales, technical and customer support, distribution volume pricing and delivery options
Contact Inventek