The ISM43340-L77 quad-radio device provides the highest level of integration for wireless system, with integrated dual band (2.4 GHz/ 5 GHz) Wi-Fi, IEEE 802.11 a/b/g/n single-stream, MAC/baseband/radio, Bluetooth 4.0 for Linux processors with SDIO interfaces.
The FCC/CE/IC module includes integrated power amplifiers, LNAs and T/R switches for the 2.4 GHz and 5 GHz WLAN bands, greatly reducing the external part count, 13mm x 14.4mm PCB footprint, and low cost of the solution.

Product Specifications
This product is intended for embedded Linux/ Android applications running on qualified Host processors with a SDIO interface. This product is targeted at high volume designs with experienced Linux / Android customers. A Software License Agreement is required for Driver support.
Product Overview
Wi-Fi standards, speeds and security:

802.11 a/b/g/n with speeds up to 72Mbps
WEP(64/128-bit), WPA, WPA2 (Personal), 802.11i (AES, TKIP, 802.1x)

System-in-Package design, no need for external crystal oscillators or RF switches
Single supply voltage of 3.3VDC ±5%
77 pin LGA package (13.3mm x 14.5 mm, 2 mm)
FCC/CE/Wi-Fi certified based on following Inventek reference design
Shared Single and dual-antenna support
WLAN host interface :4-bit SDIO for easy host interfacing
BT host digital interface (can be used concurrently with above interface): UART (up to 4 Mbps)

HCI high-speed UART (H4, H4 +, H5) transport support
Bluetooth Low Energy (BLE) support
Documents
The ISM43340-L77 has been FCC/CE/UL  certified with two Inventek antenna's.  The Dual band  Chip antenna  P/N W24-SC    or the external dual band PCB antenna W24-5PU antenna.
The ISM43340-L77 is recommended for Linux applications as well as virtual WICED designs.  The following gerbers can be used to copy our antenna design or possible a virtual WICED connected to a STM32F405 processor design.
ISM4334x_REFERENCE_GERBERS>Gerbers Download .zip
The ISM43340-L77 is supported with the open Linux FMAC drivers. Inventek has ported and tested the Broadcom DHD  drivers on the TI Beagle Bone Black, NXP i.MX6 and Atmel ARM 9 processor.
All new support is done with FMAC drivers from Cypress supporting the ISM43340-L77 device id:
43340
0xA94C
Supported

in v4.14 Cypress FMAC package

.
v4.12-2018_0205   Release Date    2018-02-05
Description
This is Cypress's Linux brcmfmac driver and firmware support package.
Brcmfmac.zip download v4.12-2018.  is an open-source driver project.
Backports package (cypress-backports-v4.12_2017_1030-module-src.tar.gz)

Firmware/clm_blob files (cypress-firmware-v4.12-2017_1122.tar.gz)

Cypress fmac patch files (cypress-patch-v4.12_2017_1030.tar.gz)

Device tree files (cypress-devicetree-v4.11_2017_0818.tar.gz)

README
Here are some support Links.
Texas Instrument AM355xx-Sitara BBB
MCIMX6UL-EVK with the Inventek ISM43362 radio
Contact Inventek for EMC Radio Certification documents
Radio Only SIP Summary
Please contact Inventek for the latest Linux Kernel.
Evaluation Boards
The SDIO board plugs directly into the SDIO socket on the TI BBB, Atmel ARM 9 and NXP  imX6.  We recommend that you purchase the EVB's with two SDIO slots for development. One for the Wi-Fi and the other one for memory cards or other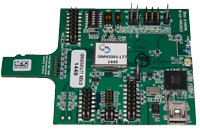 ISM43340-L77-EVB
Applications & Uses
M2M (Machine-to-Machine)
Industrial Handheld Devices
Asset/Inventory Management
POS Terminals
Medical Equipment
Wi-Fi Enabled Security Cameras
Buy Online from  our Valued Distributors
Buy IMS43340-L77 from Digi-key
Buy ISM43340-L77 SDIO Evaluation Kits from Digi-key
Contact Inventek
We are looking forward to answering all your inquiries regarding sales, technical and customer support, distribution volume pricing and delivery options
Contact Inventek