The ISMART43362-E (Inventek Systems Module Arduino Test) IoT platform is a user-friendly Arduino form factor, 3.3V shield.  The ISMART43362-E shield is assembled with the Inventek eS-WiFi module  ISM43362-M3G-L44-E  .
It is a 2.4 GHz Wi-Fi 802.11 b/g/n based on Cypress CYW43362 Radio, St Micro STM32F205  microcontroller with 1 Meg of Flash and  antenna.
The ISMART shield is an embedded wireless internet connectivity platform for IoT development. It can be used as a stand alone development board running Inventek IWIN: AT commands software or Cypress WICED SDK. The ISMART boards plug into a variety of microcontrollers shields, such as ST Micro, Cypress PSOC, Analog Devices, Intel and others.  Sample projects are available in IWN Support (IWIN – MCU reference designs). 
The ISMART shield can interfaces with a variety of microcontrollers and we have sample projects on how to setup and use the IWN AT command software running on an external microcontroller :
ST Micro NUCLEO
Cypress PSOC 4
Analog Device
The shield is compatible with the Arduino UNO R3 3.3V connector layout (without software support for Arduino). The Wi-Fi module requires no operating system and contains an integrated TCP/IP stack running on the module core. The module hardware can be used with Inventek's AT Command set (IWIN) or with Cypress WICEDTM SDK.
Hardware Features
Uses one of the Inventek eS-WiFi modules:
General Features  Supported
Based on module Type
2.4GHz   Etched antenna on module.
U.FL external antenna connector option for all modules
Configurable using Inventek AT Commands FW (IWIN).
Host interface: UART, SPI.
Input Power: 3.3- 5.0 V
Dual Port FTDI for firmware development and testing.
SPI Flash for Over The Air (OTA) updates
FCC, IC and CE and Japan approval .
All eS-WiFi module options also support a standard L44 or L54 form factor to enable customers to migrate between module options once in mass production without requiring any board layout changes.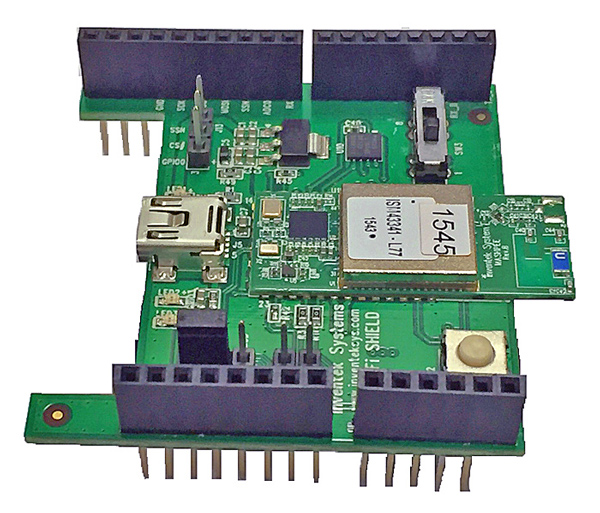 Product Documentation
Technical Resources
Software Scripts Examples
Product Resources
Firmware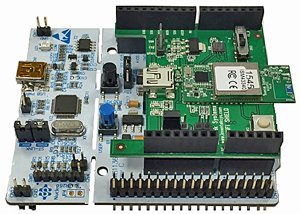 Buy Online our Valued Distributors
Buy ISMART43362-E from Digi-key
Buy Online at Inventek Store
Contact Inventek
For sales technical support Volume Pricing and delivery options
Contact Inventek