Inventek's ISMART (Inventek Systems Module ARduino Test), shield seamlessly enables ADI's EVAL-ADICUP360 to complete an IoT framework for rapid sensor-to-cloud application development
The combination of ISMART and ADI's supporting Arduino interfaces for sensors and radios, provides customers an ideal platform to explore ADI Connect cloud services.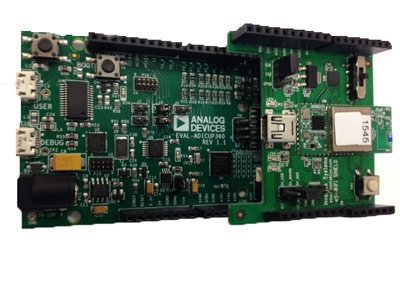 ADICUP360 – Complete Sensor to Cloud IoT Development Kit – Video
Overview
The ADuCM360_ISM43340_CN0357 is an IoT demo project for the EVAL-ADICUP360 base board and EVAL-CN0357-ARDZ, toxic gas (CO) sensor shield, created using GNU ARM Eclipse Plug-ins in Eclipse environment.
General Description
This project is a good example of how to use the EVAL-ADICUP360 board and Inventek System's ISMART Wi-Fi Arduino shield in combination with various Arduino sensor shields to precisely measure and send sensor data to cloud. It expands the list of possible applications that can be done with the base board.
The ISMART is an Arduino compatible shield, that consists of an Inventek eS-WiFi module ISM43340 which leverages Broadcom's BCM43341/0 Dual-Band (2.4GHz / 5GHz) 802.11 a/b/g/n MAC/Baseband/Radio with Integrated Bluetooth 4.0. The ISM43340 module includes an ST microcontroller Cortex M4 STM32F405, with an integrated TCP/IP stack. It requires no operating system and can be controlled with Inventek's AT Command set (IWIN) or with Broadcom's WICEDTM SDK.
This project also uses the EVAL-CN0357-ARDZ shield which is a single-supply, low noise, portable gas detector circuit using an electrochemical sensor.