The ISM43362-M3G-L44-E/U is an embedded 2.4 GHz  Wi-Fi  module. The Wi-Fi module hardware consists of a Cypress CYW43362, an integrated antenna or optional external antenna, and a STM32F205 host processor that has a SPI or UART  interface capability.
The Wi-Fi module requires no operating system and has an integrated TCP/IP stack that only requires a simple AT command set to establish connectivity for your wireless product. The module has a very small 14.5mm x 30mm surface mount footprint and has full FCC, IC, Japan and CE module certification.
This product is targeted for low cost embedded wireless applications and enables a quick, easy and cost effective method adding Wi-Fi connectivity to your platforms.
A summary of the key module features:
802.11 b/g/n Compatible based on Broadcom MAC/Baseband/Radio device.
Fully contained TCP/IP stack thus minimizing host CPU requirements
Configurable though Inventek  IWIN AT commands of Cypress WICED SDK
Host interface:  UART, SPI up to 25 MHz
Network features ICMP ( Ping), ARP, DHCP,TCP, UDP
Low power operation (3.3V supply) with built-in low power modes.
Secure Wi-Fi authentication WEP-128, WPA-PSK (TKIP), WPA2-PSK 
Product Documentation
ISM43362-M3G-L44 Product Brief
ISM43362-M3x-L44 Functional Spec.pdf
Technical Resources
Footprint
Orcad Symbol
EVB Reference Schematic
ISM43362 UART Reference Schematic
Pads PCB Footprint Decal (zip)
IWIN AT Command Resources
IWIN- AT Command Documentation
IWIN- AT Command Support Site
IWIN – AT Command Set User Manual
IWIN – AT Command Quick Reference Guide
Firmware
IWIN AT Command Firmware Binary Files
IWIN AT Command Firmware Upgrade Options
IWN AT Commands Over the Air Updates
JTAG Firmware Update Note
Cypress WICED SDK Patch
Software Scripts Examples
TCP/UDP DEmo Script (Python)
TCP Server Multi Accept Demo (Python)
HTTPs TCP File Download for OTA
Raspberry Pi SPI Clent (C)
Amazon AWS MQTT Demo
HTTP Get Request (Teraterm Macro )
Android ApplicationTCP Client & Server
AT Command Set Quick Start Guide
IWIN (AT Command Set: PC Demo software)
TCP Client Demo (Python)
IOT MCU Software Reference Designs
The projects below can be run on any of the Inventek eS-WiFi modules with minor modifications.
Cypress PSOC4 : Project with ISMART shield plugged on top of the PSOC 4 EVB
Inventek Shield: Project with ISMART shield connecting to iMatrix IoT Cloud
AWS STM32L4 Discovery IoT : Project connecting to Amazon AWS IoT Core
Azure STM32L4 Discovery IoT EVB: Project connecting to Microsoft AZURE IoT
Google STM32L4 Discovery IoT EVB: Project connecting to Google IoT Cloud
IBM STM32L4 Discovery IoT EVB: Project connecting to IBM Watson
AWS Free RTOS STM32L4 Discovery EVB: Project connecting to Amazon RTOS
ST Micro Nucleo : Project communicating to the Inventek Shield over UART
Analog Device ADICUP360 : Project connecting Toxic gas to PTC cloud
IWIN AT Command Embedded Talk Video's
Serial to Wi-Fi Product Overview & AT Command Set (Part 1, 2)
SoftAp Overview
802.11 b/g/n Serial to Wi-Fi Product Overview (Part 1)
802.11 b/g/n Serial to Wi-Fi AT Command Set Tutorial (Part 2)
Software Scripts Examples
IWIN AT Command Support Site
TCP/UDP DEmo Script (Python)
TCP Server Multi Accept Demo (Python)
HTTPs TCP File Download for OTA
Raspberry Pi SPI Clent (C)
Amazon AWS MQTT Demo
HTTP Get Request (Teraterm  Macro )
Android Application TCP Client & Server
AT Command Set Quick Start Guide
IWIN (AT Command Set:  PC Demo software)
TCP Client Demo (Python)
Embedded Talk Video's
Evaluation Board Options:
Evaluation Board (Part number: ISM43362-M3G-EVB-E) – Standard evb with break out headers for L44 pins

Evaluation Board Shield:
ISMART (Inventek Systems Module Arduino Test) IoT platform ISMART43362-E Arduino Shield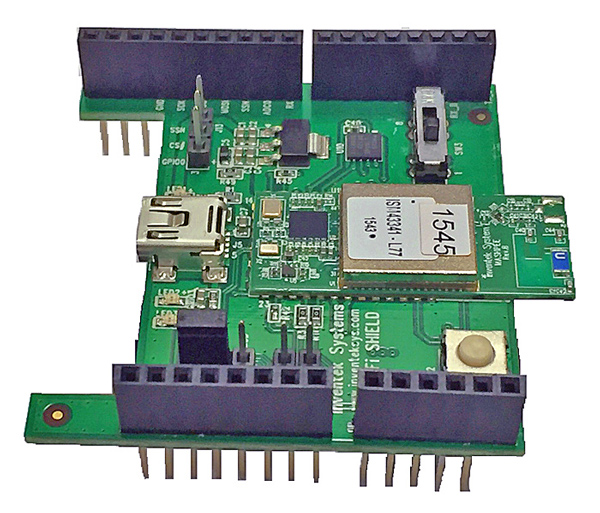 EMC Grants
43362 Module.EN300328
ISM43362 EN 300 328  V2.1.1
CE Declaration of Conformity RTTE_43362_Jun2017
ISM43362-M3G-L44.fcc part 15.2472
ISM43362 FCC Certificate
ISM43362.26IC17IC_Certification_Letter2
ISM43362 Japanese Certificate
ITELEC_MIC_2014-ISM43362-001-A03838 Inventek
Buy Online from Our Valued Distributors
Buy ISM43362-M3G-L44-E from Digi-Key
Buy ISM43362-M3G-L44-E from Mouser
Buy ISM43362-M3G-L44-U from Avnet
Evaluation Boards
Buy ISMART43362 Eval Boards from Digi-Key
Buy ISMART43362-Eval Board from Mouser
Buy ISMART43362-Eval Board from Arrow
Contact Inventek
Contact us for Sales Support Volume Pricing & Delivery options
Contact Inventek